Practical Controls
Here are some practical controls that can help put barriers between you and gambling.
TalkBanStop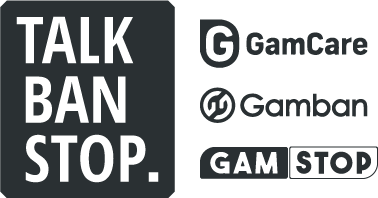 We are proud to be part of TalkBanStop, bringing together free help and practical tools to those who need them. TalkBanStop promotes the use of GAMSTOP alongside GamBan device blocking software and bank transactional blocks together with accessing free help and support via the National Gambling Helpline.
You can install Gamban for FREE by contacting the National Gambling Helpline on 0808 8020 133 or by visiting the GamCare Forum.
Visit TalkBanStop
Contact your bank
Many banks now offer the option of blocking yourself from making gambling transactions.
For more information visit GamCare.
Other self-exclusion services
If you also gamble offline, it's a good idea to self-exclude from other types of gambling too.
Casinos
Visit SENSE to self-exclude from all licensed land-based casinos in Great Britain.
Arcades
Visit Bacta to self-exclude from one or more Adult Gaming Centres, High Street Arcades and Motorway Service Areas.
Bingo
Visit Bingo Association to self-exclude from all land-based bingo premises across Great Britain. You can phone a venue to do this.
Betting shops and bookmakers
Visit self-exclusion to self-exclude from multiple bookmakers in your area.
Freephone 0800 294 2060
Install software
Adblockers
Install an adblocker to help reduce the amount of advertising you see online. Search online for 'best adblockers' to find the right adblocker for you. This type of software is usually free.
Blocking software
There is a range of blocking software available to use to protect your devices. For more information visit BeGambleAware
Delete apps
Delete all gambling apps from any phones and tablets you have access to.
Unsubscribe and unfollow
Unsubscribe from any emails you receive from gambling companies, and unfollow gambling sites on social media accounts such as Facebook and Twitter.